Apple Watch Series 7 (41MM) Smart Watch In Pakistan To Buy Online At Affordable Price
Regular price
Rs.108,000.00
Rs.108,000.00
Delivery in 5 Working Days
Secure Advance Payment Policy
In stock, ready to ship

Inventory on the way
Specifications:
| | |
| --- | --- |
| Product Type | Smartphone |
| Availability | ¶ |
| Model | ¶ Series 7 (MKN03) |
| ¶ ¶ ¶ ¶ Detail | ¶ WatchOS 8.0 |
| Dial Size | ¶ 41 mm (1.61 in) |
| Connectivity | ¶ WiFi, Bluetooth |
| Screen. Size (inch) | ¶ 1.9 |
| Screen Type | ¶ Retina, LTPO, OLED |
| Screen Resolution | ¶ 448 x 368 |
| Internal Storage | ¶ 32 GB |
| Sensors | ¶ Accelerometer, Blood Oxygen Sensor, Compass, Electric Heart Sensor, Gyroscope, GPS |
| Battery Type | ¶ Non Removable, Li-ion |
| Battery Time | ¶ Up to 18 h (mixed usage) |
| Dimensions | ¶ 45 x 38 x 10.7 mm (1.77 x 1.50 x 0.42 in) |
| Weight | ¶ 32 g |
| Manufacturer Link | ¶ Additional Information |
| Warranty | ¶ International / Manufacturer |
| Color Detail | ¶ Black, Blue, Green, Starlight |
¶
Details:
Always-On Retina display. A brighter view of you.
You donƒ??t need to raise your wrist or touch the screen to see the time or other information and complications on your apple watch face, because the display is always on. And now itƒ??s 70% brighter indoors when your wrist is down.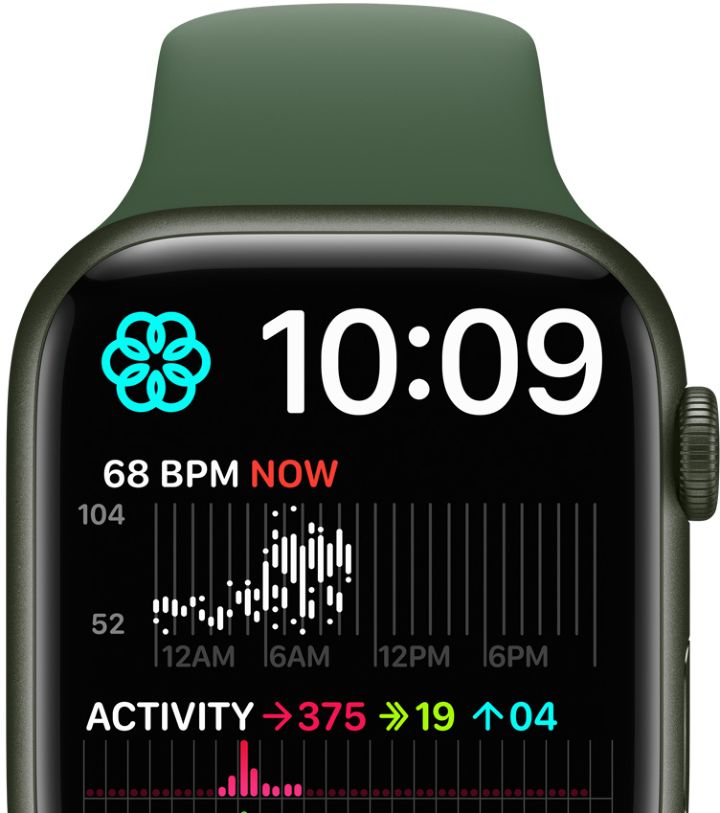 Smooth and continuous. The edge of design.
A subtle wraparound effect is created by refracted light at the edge of the display for a seamless integration with the case.

The future of health. On full display.
Measure your blood oxygen level with a revolutionary sensor and app. Take an ECG anytime, anywhere. Check your heart rate. Along with other innovations like mindfulness and sleep tracking to keep you healthy from head to toe. Series 7 puts more health insights in sight.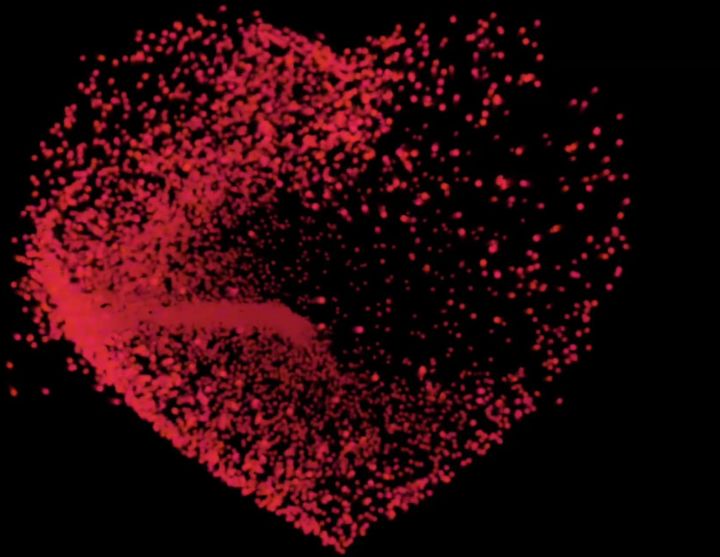 Measure your blood oxygen. Itƒ??s a breathtaking innovation.
Your blood oxygen level is a key indicator of your overall wellness. It can help you understand how well your body is absorbing oxygen and the amount of oxygen delivered to your body. The remarkable sensor and app in Apple Watch Series 7 allow you to take on?demand readings of your blood oxygen as well as background readings, day and night.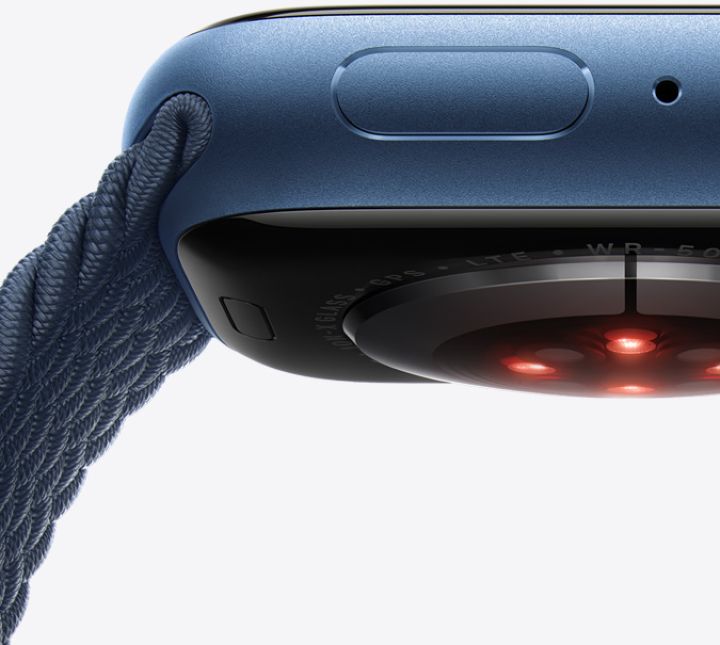 Take an ECG at any time.
ith the ECG app, Apple Watch Series 7 is capable of generating an ECG similar to a single-lead electrocardiogram. Itƒ??s a momentous achievement for a wearable device that can provide critical data for doctors and peace of mind for you.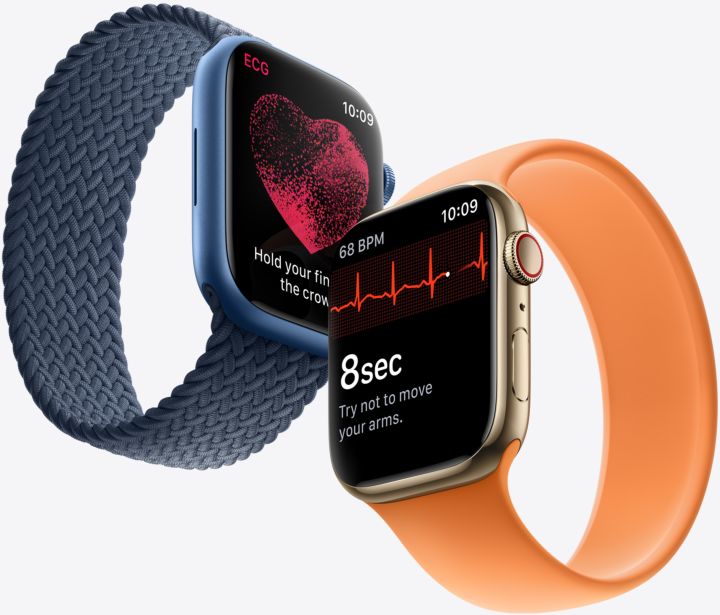 Dream machine.
The Sleep app doesnƒ??t just keep track of your sleep. It also helps you create a schedule and a bedtime routine so you can meet your sleep goals. It even tracks your respiratory rate while youƒ??re sleeping. How refreshing.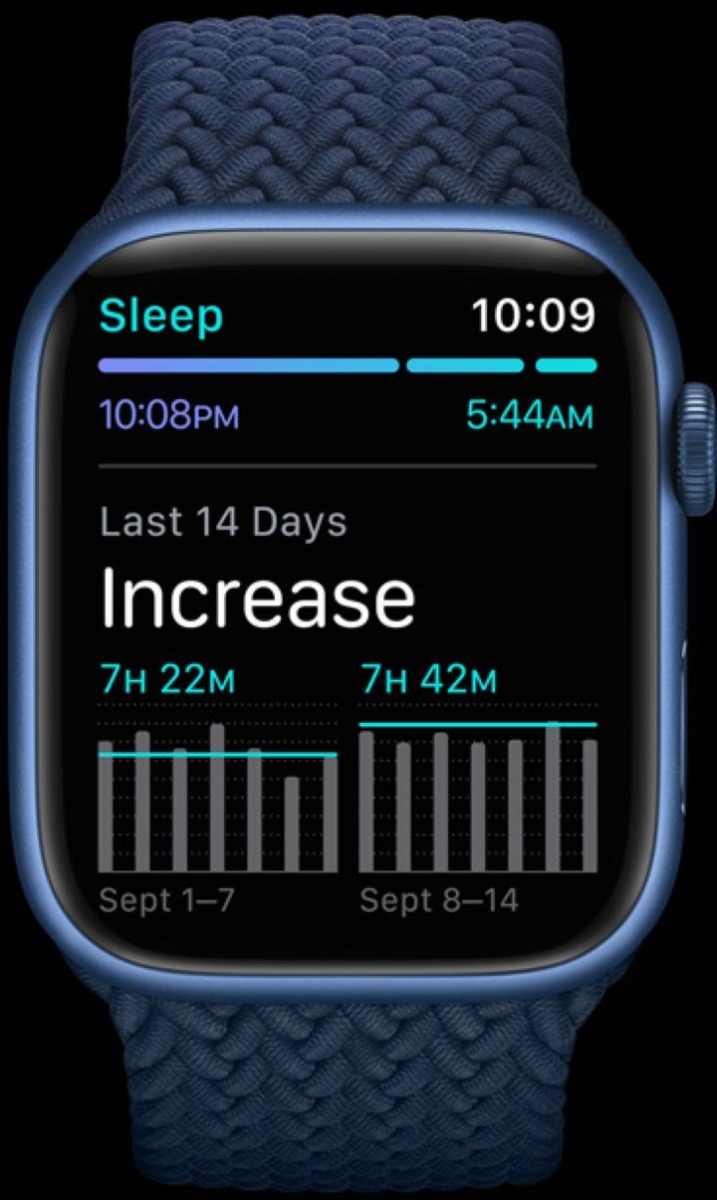 Your finger can tell you a lot about your heart.
Electrodes built into the Digital Crown and the back crystal work together with the ECG app to read your heartƒ??s electrical signals. Simply touch the Digital Crown to generate an ECG waveform in just 30 seconds. The ECG app can indicate whether your heart rhythm shows signs of atrial fibrillation a serious form of irregular heart rhythm.
FAQ's
Does the apple smart watch have GPS?
Yes, the Apple Watch has GPS capabilities. You can use it to track your location and activity level when you're out and about. The watch can also be used to navigate your way around new areas or find your way back to familiar ones. And, of course, if you have an iPhone with you, the watch can extend its GPS capabilities even further.
Does the apple smart watch add to your phone bill?
No, the apple smart watch does not add to your phone bill. The apple smart watch is a separate device that connects to your iPhone via Bluetooth. It does not use any of your phone's data or minutes.
Can you watch TV on an Apple smart watch?
Yes, you can watch TV on an smart watch. However, you will need to connect the watch to a compatible device, such as an iPhone or iPad, in order to do so. Once you have done that, you will be able to stream content from your device directly to your apple smart watch.
How much storage does the apple smart watch have?
The original Apple Watch had 8 GB of internal storage, but the Series 3 and later versions have 16 GB. However, keep in mind that some of that storage is taken up by the operating system and apps, so your available space will be less than 16 GB. Overall, you should have plenty of space for music, photos, and apps on your Apple Watch.
Does the apple smart watch have Bluetooth?
Yes, the Apple Watch has Bluetooth. The watch uses Bluetooth to communicate with your iPhone to provide notifications, track your activity, and more.
Shipping will be charged for this product
You can easily Return our parcel by following the given steps:
Receive the order from the rider and pay the exact amount written on airway along with the order.
Make an order opening video (For Electrical products Charge/power the product and check either the product is functioning or not)
Send that Video to our WhatsApp number within 2 days after receiving your Order.
Return the order to our Rider with the Airway bill after get approval of the return from our team.
You can then select either you want your cash back or you want an exchange.
within 7 days you will be able to get your money back or get another order in exchange of the return.
Note: Eatable and Electrical Products have only Check waranty. Make a video of order openning and make sure to show the fault in that video. The Video shouldn't be edited.